on
We just added Android 5.1 Lollipop to Browserling. You can now cross-browser test your webapps and websites in Android 5.1.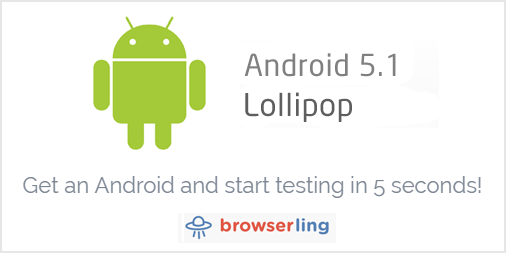 Try Android 5.1 now in Browserling (if you've the developer plan):
We've also added Android 5.1 to our convenient browser access scheme. If you've a developer plan, you can access Android 5.1 through this URL in just a few seconds:

https://www.browserling.com/browse/android/5.1/http://www.google.com

This will load google.com on Android 5.1.
Android 5.1 Lollipop adds the following new features:
High-definition voice calls, available between compatible 4G LTE devices running Android 5.1.
Ability to join Wi-Fi networks and control paired Bluetooth devices from quick settings.
Improvements and bug-fixes to the Overview screen.
Improvements to the notification priority system, to more closely replicate the silent mode that was removed in Android 5.0.
Official support for multiple SIM cards.
Device protection: if a device is lost or stolen it will remain locked until the owner signs into their Google account, even if the device is reset to factory settings.
Happy cross-browser testing in Androids!
Email this blog post to your friends or yourself!
Try Browserling!
Enter a URL to test, choose platform, browser and version, and you'll get a live interactive browser in 5 seconds!