Posted by
November 25, 2014
on
We just launched Android 5.0 Lollipop at Browserling. You can now cross-browser test your webapps and websites in Android 5.0.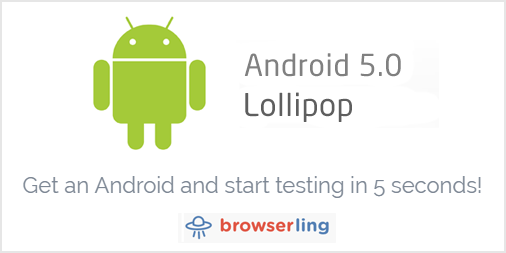 We've also added Android 5.0 to our unique browser scheme. If you've a developer plan, you can access Android 5.0 through this URL in a second:

https://www.browserling.com/browse/android/5.0/http://www.digg.com

This will load digg.com on Android 5.0.
Or you can try Android 5.0, or any other version through our widget:
Android 5.0 Lollipop adds the following new features:
Lock screen provides shortcuts to application and notification settings.
Audio input and output through USB devices.
Updated emoji.
Support for print previews.
Recent activities screen with tasks instead of applications, up to a configured maximum of tasks per application.
A flashlight-style application is included, working on supported devices with a camera flash.
Addition of 15 new languages: Basque, Bengali, Burmese, Chinese (Hong Kong), Galician, Icelandic, Kannada, Kyrgyz, Macedonian, Malayalam, Marathi, Nepali, Sinhala, Tamil and Telugu.
Project Volta, for battery life improvements.
Tap and Go allows users to quickly migrate to a new Android device, using NFC and Bluetooth to transfer Google Account details, configuration settings, user data and installed applications.
Vector drawables, which scale without losing definition.
User-customizable priorities for application notifications.
Android Runtime (ART) with ahead-of-time (AOT) compilation and improved garbage collection (GC), replacing Dalvik that combines bytecode interpretation with trace-based just-in-time (JIT) compilation.
WebViews receive updates independently through Google Play for security reasons, instead of relying on system-wide vendor updates.
Pinning of an application's screen for restricted user activity.
OpenGL ES 3.1 and Android Extension Pack (AEP) on supported GPU configurations.
Improved accessibility support (e.g. switch access support).
Searches can be performed within the system settings for quicker access to particular settings.
Support for 64-bit CPUs.
Third-party applications regain the ability to read and modify data located anywhere on external storage, such as on SD cards.
Refreshed notification tray and quick settings pull-down.
SELinux in enforcing mode for all domains.
Recently used applications are remembered even after restarting the device.
Guest logins and multiple user accounts are available on more devices, such as phones.
Refreshed lock screen, no longer supporting widgets.
Block-based over-the-air (OTA) updates for new devices.
Smart lock feature.
Material design, bringing a restyled user interface.
Happy cross-browser testing in Androids!
Email this blog post to your friends or yourself!
Try Browserling!
Enter a URL to test, choose platform, browser and version, and you'll get a live interactive browser in 5 seconds!