on
Great news! We've added Android 7.1 Nougat to Browserling. You can now cross-browser test your webapps in Android 7.1!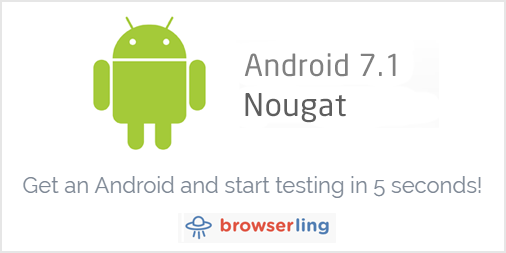 You can try Android Nougat right now in Browserling for free:
We've also implemented Android 7.1's quick browsing scheme. You can immediatly access Android 7.1 and start cross-browser testing through this short link:

https://www.browserling.com/browse/android/7.1/http://www.google.com

This will load google.com on Android 7.1.
Android 7.1 adds the following features:
Touch/display performance improvements.
Manual storage manager identifies files and apps using storage.
Moves (Fingerprint swipe down gesture).
Seamless A/B system updates.
Daydream VR mode.
Night Light.
Rearranged notification shade.
Developer feature: App shortcuts/shortcut manager APIs.
Developer feature: PCDMA voice privacy property.
Developer feature: Improved VR thread scheduling.
Developer feature: Carrier config options for managing video telephony.
Developer feature: Multi-endpoint call support.
Developer feature: Keyboard image insertion.
Developer feature: Source type support for Visual Voicemail.
Developer feature: Manual storage manager Intent for apps.
Developer feature: Support for various MNO requirements.
Developer feature: Fingerprint sensor gesture to open/close notification shade.
Developer feature: Enhanced wallpaper metadata.
Developer feature: Circular app icons support.
Happy mobile browser testing in Androids!
Email this blog post to your friends or yourself!
Try Browserling!
Enter a URL to test, choose platform, browser and version, and you'll get a live interactive browser in 5 seconds!