Posted by
October 3, 2016
on
We've just added the new Android 7.0 Nougat to Browserling's mobile browser testing cloud. You can now cross-browser test your websites in Android Nougat!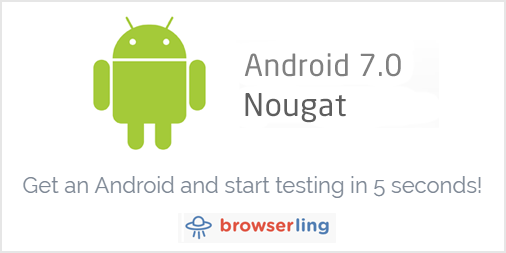 You can try Android 7.0 right now in Browserling for free. Just enter a link to test here and press Test Now button:
We've also implemented Android 7.0's quick browsing scheme. You can instantly access Android Nougat and start cross-browser testing through this short link:

https://www.browserling.com/browse/android/7.0/http://www.google.com

This will load google.com on Android 7.0.
Android 7.0 adds the following features:
Just in Time (JIT) compiler with code profiling to ART, which lets it constantly improve the performance of Android apps as they run.
Unicode 9.0 emoji and skin tone modifier support (and exposes a subset of ICU4J APIs).
New Data Saver mode, which can force apps to reduce bandwidth usage.
Daydream virtual reality platform (VR interface).
Multiple Device Locales.
Vulkan 3D rendering API.
Settings app navigation drawer.
Another system partition, which gets updated when not in use, allowing for seamless system updates.
Picture-in-picture support for Android TV.
Multi-window support, which supports floating apps on a desktop layout.
Ability to display color calibration.
Ability to switch apps by double tapping in overview button.
Added Emergency information part.
Improvements to file browser.
Ability to screen zoom.
Improved Doze functionality, which aims to prolong battery life.
New JIT Compiler, making for 75 percent faster app installations and a 50 percent reduction in compiled code size.
Replaced notification cards with notification sheets.
Redesigned Overview screen.
More Quick Settings options.
Redesigned notification shade, featuring instant access to certain settings.
Added the "Clear All" button in Overview screen.
Happy mobile browser testing in Android Nougat!
Email this blog post to your friends or yourself!
Try Browserling!
Enter a URL to test, choose platform, browser and version, and you'll get a live interactive browser in 5 seconds!