Posted by
February 25, 2016
on
Exciting news! We've added Android 6 Marshmallow to Browserling. You can now cross-browser test your webapps and websites in Android 6.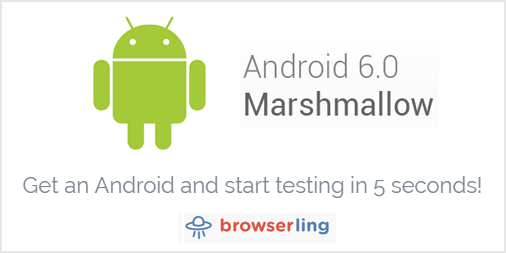 Try Android 6 right now in Browserling (if you've the developer plan):
We've also added Android 6 to quick browsing scheme. If you've a developer plan you can access Android 6 immediately through this URL in a few seconds:

https://www.browserling.com/browse/android/6/http://www.google.com

This will load google.com on Android 6.
Android 6 adds the following new features:
Alphabetically accessible vertical application drawer.
Contextual search from keywords within apps.
Experimental multi-window feature.
App permissions now granted individually at run-time, not all-or-nothing at install time.
Larger Application folders with multiple pages.
Post-install/run-time permission requests.
Demo Mode feature for screenshot-capture usage.
App Linking for faster instinctive opening of links with corresponding applications.
App Standby feature.
Native fingerprint reader support.
Application search bar and favorites.
Introduction of Doze mode, which reduces CPU speed while the screen is off in order to save battery life.
MIDI support for musical instruments.
Automatic full data backup and restore for apps.
Renamed "Priority" mode to "Do Not Disturb" mode.
Direct Share feature for target-specific sharing between apps.
4K display mode for apps.
Adoptable External storage to behave like Internal Storage.
USB Type-C support.
Happy cross-browser testing in Androids!
Email this blog post to your friends or yourself!
Try Browserling!
Enter a URL to test, choose platform, browser and version, and you'll get a live interactive browser in 5 seconds!