on
A few hours ago today the new Firefox 37 was released and we've already added it to Browserling. You can already cross-browser test your site in Firefox 37.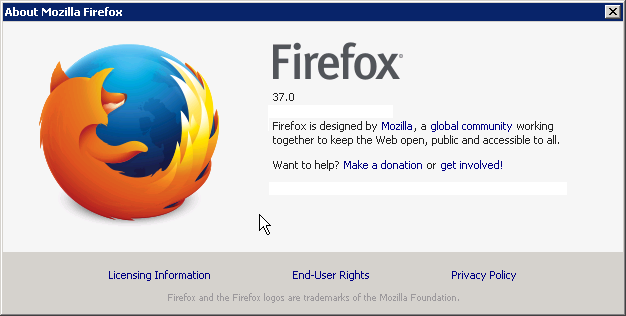 Try Firefox 37 in Browserling now!
The new Firefox 37 features include:
Yandex set as default search provider for the Turkish locale.
Bing search now uses HTTPS for secure searching.
Improved protection against site impersonation via OneCRL centralized certificate revocation.
Encrypt HTTP traffic where the server supports HTTP/2 AltSvc.
Firefox 37 biggest changes include:
Disabled insecure TLS version fallback for site security.
Improved performance of WebGL rendering on Windows.
Improved certificate and TLS communication security by removing support for DSA.
Extended SSL error reporting for reporting non-certificate errors.
TLS False Start optimization now requires a cipher suite using AEAD construction.
Firefox 37 HTML5 updates include:
Implemented a subset of the Media Source Extensions (MSE) API to allow native HTML5 playback on YouTube (Windows Vista or later only).
Added support for CSS display:contents.
IndexedDB now accessible from worker threads.
New SDP/JSEP implementation in WebRTC.
Firefox 37 developer tool updates include:
Debug tabs opened in Chrome Desktop, Chrome for Android, and Safari for iOS.
New Inspector animations panel to control element animations.
New Security Panel included in Network Panel.
Debugger panel support for chrome:// and about:// URIs.
Added logging of weak ciphers to the web console.
Happy cross-browser testing!
Email this blog post to your friends or yourself!
Try Browserling!
Enter a URL to test, choose platform, browser and version, and you'll get a live interactive browser in 5 seconds!