Posted by
September 3, 2014
on
Mozilla released Firefox 32 yesterday and we just added it on all OS platforms at Browserling. You can already cross-browser test your sites and code in Firefox 32!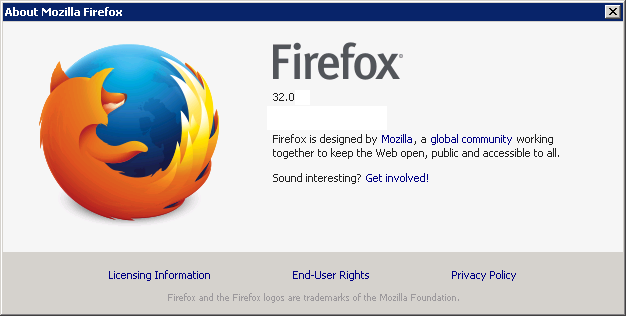 Try Firefox 32 in Browserling now!
The new Firefox 32 features include:
New HTTP cache provides improved performance including crash recovery.
Integration of generational garbage collection.
Public key pinning support enabled.
View historical use information for logins stored in password manager.
Display the number of found items in the find toolbar.
Easier back, forward, reload, and bookmarking through the context menu.
Lower Sorbian [dsb] locale added.
Firefox 32 biggest changes include:
Removed and turned off trust bit for some 1024-bit root certificates.
Performance improvements to Password Manager and Add-on Manager.
Firefox 32 HTML5 updates include:
drawFocusIfNeeded enabled by default.
ECMAScript 6 built-in method Array#copyWithin implemented.
CSS position:sticky enabled by default.
mix-blend-mode enabled by default.
New Array built-in: Array.from().
navigator.languages property and languagechange event implemented.
Vibration API updated to latest W3C spec.
CSS box-decoration-break replaces -moz-background-inline-policy.
box-decoration-break enabled by default.
Firefox 32 developer tool updates include:
HiDPI support in Developer Tools UI.
Inspector button moved to the top left.
Hidden nodes displayed differently in the markup-view.
New Web Audio Editor.
Code completion and inline documentation added to Scratchpad.
Firefox 32 fixes include:
Mac OS X: cmd-L does not open a new window when no window is available.
Text Rendering Issues on Windows 7 with Platform Update KB2670838 (MSIE 10 Prerequisite) or on Windows 8.1.
Firefox 32 security fixes include:
Use-after-free setting text directionality.
Profile directory file access through file: protocol.
Out-of-bounds read in Web Audio audio timeline.
Uninitialized memory use during GIF rendering.
Use-after-free during DOM interactions with SVG.
Miscellaneous memory safety hazards (rv:32.0 / rv:31.1 / rv:24.8).
Happy cross-browser testing!
Email this blog post to your friends or yourself!
Try Browserling!
Enter a URL to test, choose platform, browser and version, and you'll get a live interactive browser in 5 seconds!