on
Mozilla announced Firefox 28 release today. As soon as we heard the news we rushed to add this browser to our cross-browser testing platform. We just finished installing Firefox 28 to Browserling and you can already cross-browser test your sites in this browser version.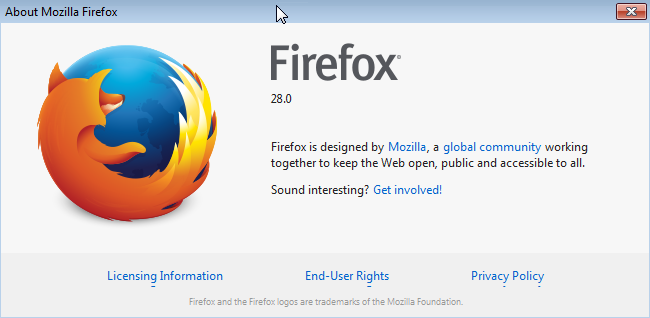 Try Firefox 28 in Browserling now!
Firefox 28 Key New Features and Updates
Now that spdy/3 is implemented support for spdy/2 has been removed and servers without spdy/3 will negotiate to http/1 without any penalty.
Mac OS X: Notification Center support for web notifications.
Horizontal HTML5 audio/video volume control.
VP9 video decoding implemented.
Support for Opus in WebM.
Firefox 28 Web Developers Updates
Support for MathML 2.0 'mathvariant' attribute.
Background thread hang reporting.
Support for multi-line flexbox in layout.
The console.exception property has been added.
The console.assert property has been added.
App Manager: a new Manifest Editor was added.
App Manager: the toolbox used for debugging apps is now embedded in the app manager UI.
Web Console: added a "split console" mode - press Escape to quickly open the console in any other tool.
Web Console: added a dark theme for the output.
Debugger: pretty-print minified JavaScript.
Debugger: simply hover over any variable or click on it to bring up a pop-up that displays the current value.
Inspector: added a color picker in rules view and various tooltips.
Browser Toolbox: allows add-on and platform developers to use almost all of the developer tools while targeting the browser itself.
Support for multi-line flexbox has been added.
Longhand East Asian counter styles have been implemented.
Experimental support for the background-blend-mode property has been added, but is disabled by default.
The none value has been added to font-variant-ligatures.
Support for the :hover user action pseudo-class on pseudo-elements has been implemented.
<input type=color> and <input type=number> have been implemented but are disabled by default.
New Array methods have been implemented: Array.prototype.entries() and Array.prototype.keys().
HTMLVideoElement.canPlayType('video/webm') now reports maybe.
The File constructor, e.g. new File(["foo"], "foo.txt") has been implemented.
The two attributes Window.screenX and Window.screenY now return CSS pixels.
Support of the mathvariant attribute in MathML has been added.
Firefox 28 Security Updates
Out-of-bounds write through TypedArrayObject after neutering.
Out-of-bounds read/write through neutering ArrayBuffer objects.
Use-after-free in TypeObject.
Privilege escalation using WebIDL-implemented APIs.
SVG filters information disclosure through feDisplacementMap.
Memory corruption in Cairo during PDF font rendering.
Information disclosure through polygon rendering in MathML.
Android Crash Reporter open to manipulation.
Content Security Policy for data: documents not preserved by session restore.
WebGL content injection from one domain to rendering in another.
Local file access via Open Link in new tab.
onbeforeunload and Javascript navigation DOS.
Spoofing attack on WebRTC permission prompt.
crypto.generateCRMFRequest does not validate type of key.
Out of bounds read during WAV file decoding.
Files extracted during updates are not always read only.
Miscellaneous memory safety hazards.
Firefox 28 Unresolved Issues
Text Rendering Issues on Windows 7 with Platform Update KB2670838 (MSIE 10 Prerequisite) or on Windows 8.1 has a workaround.
Echo cancellation on apprtc.appspot.com fails.
Happy cross-browser testing in Firefox 28!
Email this blog post to your friends or yourself!
Try Browserling!
Enter a URL to test, choose platform, browser and version, and you'll get a live interactive browser in 5 seconds!