Posted by
January 30, 2014
on
We just launched Internet Explorer 11 at Browserling! You can now cross-browser test your websites and web applications in IE11. IE 11 is available to all our paying customers. The free Browserling version offers IE 9.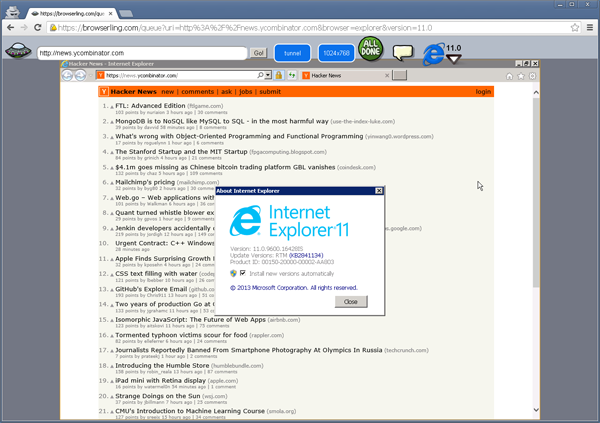 Try IE11 in Browserling now (if you've developer plan, else choose IE9 that is available for free to everyone):
New features in IE11:
Redesigned developer tools (via F12)
Support for WebGL
Enhanced scaling for high DPI screens
Prerender and prefetch.
SPDY v3 support on Windows 8.1 and newer.
Full Screen and Orientation APIs support.
CSS border image support.
JavaScript enhancements.
DOM mutation observers.
Web Cryptography API (WebCrypto).
Video text track support.
Encrypted media support.
Hardware-accelerated JPEG decoding.
Improved HTML editor.
HTML5 full screen.
HTML5 prerender.
HTML5 prefetch.
Closed captioning.
Adaptive bitrate streaming (Media Source Extensions).
Encrypted Media Extensions.
Transport Layer Security (TSL) v1.2 is the default protocol for secure connections.
A new user-agent string Mozilla/5.0 (Windows NT 6.3; Trident/7.0; rv:11.0) like Gecko.
Removed (deprecated) features:
IE11 has deprecated document.all. Code that checks for its presence will not detect it, but code that actually uses it will continue to work.
The attachEvent proprietary API has been removed.
Quick Tabs have been removed (CTRL+Q).
Work Offline command removed from File menu.
Drag and drop of selected content from IE to other programs like Word or WordPad has been removed.
Use large icons for command buttons has been removed.
Some Group Policy settings are no longer supported.
Ability to view all cookies at once via Developer Tools has been removed.
Ability to disable tabbed browsing has been removed.
autocomplete="off" for input type="password" has been removed.
RC4 cipher suite has been deprecated.
Happy cross-browser testing in Internet Explorer 11!
Email this blog post to your friends or yourself!
Try Browserling!
Enter a URL to test, choose platform, browser and version, and you'll get a live interactive browser in 5 seconds!