Posted by
October 29, 2013
on
Mozilla just released Firefox 25 browser. We got a notification and immediately installed it to our browser testing platform. You can start cross-browser testing your websites, js code, and designs in this new browser version.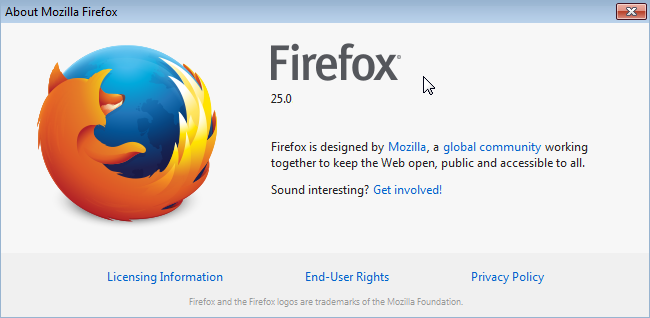 Try Mozilla Firefox 25 in Browserling now!
Firefox 25 News
Added Web Audio support.
The find bar is no longer shared between tabs.
If away from Firefox for months, you now will be offered the option to reset it to its default state while preserving your essential information.
Resetting Firefox no longer clears your browsing session.
Blank or missing page thumbnails when opening a new tab.
Security fixes can be found here.
Firefox 25 Developer News
CSS3 background-attachment:local support to control background scrolling.
Many new ES6 functions implemented.
iframe document content can now be specified inline.
Firefox 25 Security Fixes
Use-after-free in HTML document templates.
Memory corruption in workers.
Miscellaneous use-after-free issues found through ASAN fuzzing.
Security bypass of PDF.js checks using iframes.
Use-after-free when updating offline cache.
Writing to cycle collected object during image decoding.
Improperly initialized memory and overflows in some JavaScript functions.
Access violation with XSLT and uninitialized data.
Spoofing addressbar though SELECT element.
Miscellaneous memory safety hazards.
Happy cross-browser testing in Firefox 25!
Email this blog post to your friends or yourself!
Try Browserling!
Enter a URL to test, choose platform, browser and version, and you'll get a live interactive browser in 5 seconds!