on
Yesterday, Opera version 75 was released. As always, we downloaded this version and installed it in our browser testing cloud. Opera 75 is based on Chromium 89 and in this article, we'll summarize the most important changes in this Opera version.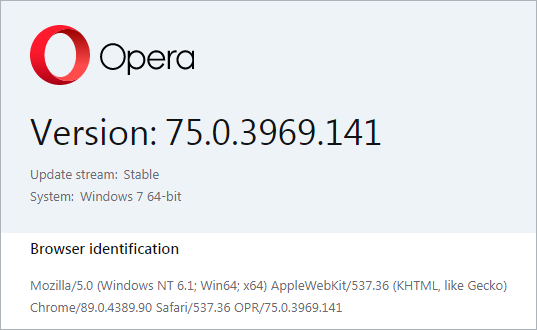 Try Browserling's Opera 75 now!
What's new in Opera 75?
Custom Keyboard Shortcuts
You can now set your own keyboard shortcuts for features like Flow, Crypto Wallet, and Player. The Flow connects your browser (running on your desktop computer) with Opera on iOS and Android. With this feature, you can send notes, notes, images, links, and files between your devices with a single click. The Crypto Wallet Crypto lets you make payments directly from your browser to merchants, other users, and apps. The Player feature is the gateway to all your favorites on music and podcasts from the most popular services, such as Apple Music, Spotify, and YouTube Music.
Two Times Faster
Opera 75 runs 2 times faster compared to the previous version of the browser. This means faster access to your favorite websites, and quicker transition to Opera's built-in features like WhatsApp, Telegram, Twitter, and Instagram - all neatly packed in the sidebar.
Support for Apple M1 Processors
Opera 75 now natively supports the newest line of Apple M1 processors. With the transition from Intel to Apple Silicon chips, Apple can gain more control over the performance of Mac hardware and software that runs on macOS.
Other Changes in Opera 75
The Search Tabs preview window is now updated when the tab from another window is closed.
IPFS is now enabled for all channels.
Better condition to determine if registration is completed in LastCard.
Added dark mini player.
Make #cashback flag visible.
Merge ThemedLabelButton with RoundedLabelButton.
Use the default cursor on non-active elements.
Replace "Don't show again" text with "Discard".
Add "x" button for address bar suggestions.
The -incognito command line parameter is now working again.
Fix visually misaligned position of labels in Search Tabs.
Disable hints on systems with no transparency.
Enable KeyboardLockInteractiveBrowserTest tests.
Add borders to feedback dialog.
Whatsapp in the sidebar works again after clicking a notification.
Instagram and Twitter are treated as messengers.
Add emoji button when adding or editing workspaces.
Improve the quality of smart files and pictures.
Once a user sets the location, do not update it again.
The top right-hand corner of an overlay is now rounded.
Fix translations from English to Spanish.
Happy cross-browser testing in this new release!
Email this blog post to your friends or yourself!
Try Browserling!
Enter a URL to test, choose platform, browser and version, and you'll get a live interactive browser in 5 seconds!