Posted by
February 2, 2021
on
Great news! A new version of Opera has been released today. It's Opera 74 and as always, we'll be taking a look at all the new features and changes. The new Opera version is based on Chrome 88 and we have uploaded this version to our virtual browser platform so that you can already test your apps and websites in this new version.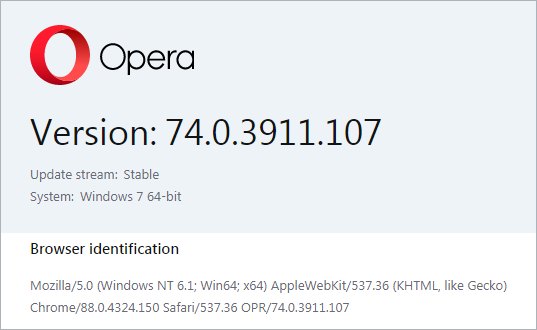 Try Browserling's Opera 74 now!
Summary of Opera 74 Changes
There are 5 key changes in Opera 74:
Added Tab Snoozing to save your computer's memory and CPU power.
You can now access more files via the Easy Files feature.
Search Tabs are now more organized: open tabs are shown on top and recently closed tabs at the bottom.
Dify integration has been added.
Support for website-aware virtual cards has been added.
Let's take a look at these changes in-depth.
New Feature: Tab Snoozing
A new feature that saves the computer's memory called "Tab Snoozing" has been added to Opera 74 and it's enabled by default. This feature pauses tabs that you aren't actively using and that will save your computer's processor and memory. Each tab will become active again when you return to it. This feature can be turned off by going into Settings - User Interface.
More Files via Easy Files
The Easy Files feature lets you access files without searching through folders. When attaching a file to an email or uploading it anywhere online, the Easy Files popup will display your most recently downloaded files. The visual display of files makes it quick and easy to see and select exactly what you want. Previously, Easy Files would show the three most recent files but with this update, you can now see all of your downloaded files. You can use the file scroll button to cycle through them to find the right file. Additionally, as Easy Files is a new feature, Opera has added a feedback popup that you can use to report Easy Files bugs or UI issues.
Search Tabs are More Organized
Search Tabs is a menu that shows a list of your currently open and recently closed windows. It works like a fuzzy finder and helps you quickly find a specific tab by typing a couple of letters or keywords. If you click the magnifying glass icon in the top right (or press Ctrl+Space), then you can type a couple of letters or a keyword to locate a tab. The list updates and narrows down your options as you type. The new update to Search Tabs puts the open tabs on the top of the list and recently closed tabs at the bottom of the list.
Other Fixed and Changes in Opera 74
Title was missing in the Extensions toolbar menu.
Fix an invalid memory dereference in PlayerServiceBrowsertest.
Add rich hint support for the cashback badge and popup.
Show more than only 3 recently closed tabs search mode.
Fix the about dialog not showing the version and the "Relaunch" button.
Opera packages are now universal.
Fix a bad translation in the Spanish UI.
Add a separator below BABE (Better Address Bar Experience) column titles.
Blank pages now work in macOS Big Sur.
Fix music player continuing to play after disabling player in the sidebar.
Remove NativeProgressBar.
Enable support for Google Endpoint Verification.
Fix a font size consistency issue in the VPN popup.
Add the new Facebook Messenger icon in the sidebar.
Happy cross-browser testing in this new release!
Email this blog post to your friends or yourself!
Try Browserling!
Enter a URL to test, choose platform, browser and version, and you'll get a live interactive browser in 5 seconds!