Posted by
December 9, 2020
on
We have good news! The new stable release of Opera 73 is out and it's already available for cross-browser testing on our online browser platform. Opera 73 is based on Chromium 87 browser engine.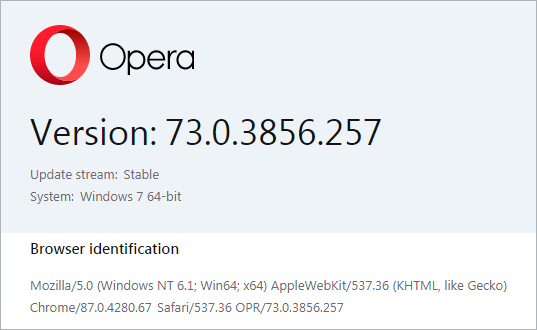 Try Opera 73 in Browserling now!
New Features and Updates in Opera 73
More Workspaces
Opera now allows users to have up to 24 individual workspaces, instead of just 5. This feature was requested by many users around the world who are using Opera's workspace feature.
Updated Search Tabs
This is an improvement to the Search Tabs feature. Now every open tab line in your Search Tabs results has a close button that's visible when a line is hovered (similar to the behavior in the address bar dropdown). When clicked, the tab gets closed and removed from the open tabs list and added to the recently closed list.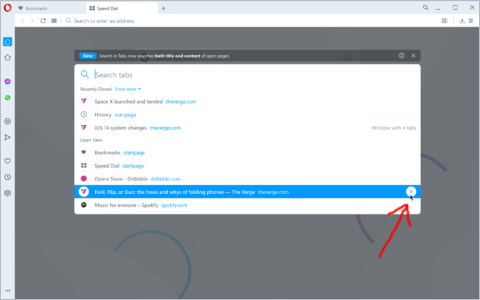 Full Changelog for Opera 73
Allow choosing initial page background color on navigation in video popout.
Update Chromium on the master branch to 87.0.4252.0.
Recognize social media pageviews.
Two tiles are discarded instead of just one when BABE (Better Address Bar Experience) is shown for the first time.
BABE (Better Address Bar Experience) is light when the browser window is minimized.
Ignore the warning when interstitial located in iframe don't work.
Content matches are now sorted by the match count.
Mark content matches with the number of matches.
Add close tab button in Search Tabs.
Replace "Search in Tabs" string to "Search Tabs".
Fix issue when an improper area was snapped.
Add option to enable/disable the video player.
Add option to enable/disable auto-pause videos.
Add option to auto-resume playing after X seconds.
Update Easy Files dismiss flow.
Add a shortcut entry for "Open player in sidebar".
Fixed an issue when LazySessionLoadingTest.ShouldLoadPagesInProperOrder/4 failed.
Show search popup in Opera internal pages.
Fix wrong position of heart popup window.
Start content searches only when searching for words with more than 1 character.
Wait until search is done before updating results.
Do not show URL for internal pages in dropdown.
Apply ScopedRunLoopTimeout correctly.
Add title to search popup window element.
Fix an issue where "Open All" in a new window opened fewer windows.
Retrieve match count when searching for text in a tab without cache.
Popups are now dismissed when opening tab cycler.
Change the layout of the VPN disclaimer.
Fix an issue when refresh didn't work when a popup was opened.
Retrieve match count when searching cached text.
Change text "Register" to "Tab" in the German locale.
Last added bookmark & speed dial not shown in corresponding BABE (Better Address Bar Experience) columns.
Move BrowserWindow out of opera namespace.
Add automatic VPN connection preference setting.
Some preference observers are not unregistered during browser shutdown.
Make the date input and the buttons look better when resizing History windows.
Fix an issue on MacOS where the "Send to My Flow" button in an inactive window was not disabled.
Content search is triggered for a single character when #search-tabs-sort-relevance is enabled in Search Tabs.
Some popups aren't anchored and may occur in different places.
Fix an empty tab list showing up.
Fix hostname not being shown for search results in Search Tabs.
Don't compute average color from the currently set wallpaper.
Split GNU assembler sources into Chromium- and Chrome-branded.
Crash when clicking "Show more" on page info.
Have fun cross-browser testing in Opera 73!
Email this blog post to your friends or yourself!
Try Browserling!
Enter a URL to test, choose platform, browser and version, and you'll get a live interactive browser in 5 seconds!