Posted by
November 17, 2020
on
Woohoo! Mozilla has a new release for us - Firefox 83. We rushed to install it on our cross-browser testing platform as we wanted you to be able to try it as soon as possible.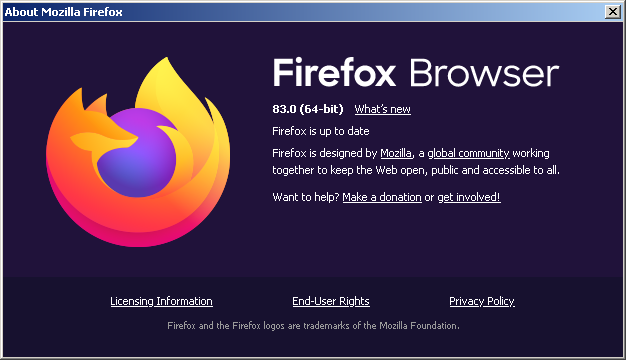 Try Firefox 83 in Browserling now!
Firefox keeps getting faster as a result of significant updates to SpiderMonkey, Firefox 83 JavaScript engine, you will now experience improved page load performance by up to 15%, page responsiveness by up to 12%, and reduced memory usage by up to 8%. Mozilla has replaced part of the JavaScript engine that helps to compile and display websites for you, improving security and maintainability of the engine at the same time.
Firefox introduces HTTPS-Only Mode. When enabled, this new mode ensures that every connection Firefox makes to the web is secure and alerts you when a secure connection is not available. You can enable it in Firefox Preferences.
Pinch zooming will now be supported for users with Windows touchscreen devices and touchpads on Mac devices. Firefox users may now use pinch to zoom on touch-capable devices to zoom in and out of webpages.
Picture-in-Picture now supports keyboard shortcuts for fast forwarding and rewinding videos: use the arrow keys to move forward and back 15 seconds, along with volume controls. For a list of supported commands see Support Mozilla
When you are presenting your screen on a video conference in Firefox, you will see our improved user interface that makes it clearer which devices or displays are being shared.
Mozilla has improved functionality and design for a number of Firefox search features.
Firefox supports AcroForm, which will allow you to fill in, print, and save supported PDF forms and the PDF viewer also has a new fresh look.
Firefox users in India on the English build of Firefox will now see Pocket recommendations in their new tab featuring some of the best stories on the web. If you don't see them, you can turn on Pocket articles in your new tab by following these steps.
For the recently released Apple devices built with Apple Silicon CPUs, you can use Firefox 83 and future releases without any change. This release will support emulation under Apple's Rosetta 2 that ships with macOS Big Sur. Mozilla is working toward Firefox being natively-compiled for these CPUs in a future release.
This is a major release for WebRender as Mozilla rolls out to more Firefox users on Windows 7 and 8 as well as on macOS 10.12 to 10.15.
For users on macOS restoring a session with minimized windows, Firefox now uses much less power and you should see much longer battery life.
Developer Information Developers can use the scroll badge in the Page Inspector to Debug scrollable overflow. Selecting the badge highlights elements that are causing overflow and marks them with the overflow badge.
Developers can use the scroll badge in the Page Inspector to Debug scrollable overflow. Selecting the badge highlights elements that are causing overflow and marks them with the overflow badge.
This release adds support for conic gradients in CSS, helping colors to smoothly transition as you spin around the center, rather than as you progress outward from the center.
Fixed issues in Firefox 83
This release also includes a number of accessibility fixes:
Screen reader features which reports paragraphs now correctly reports paragraphs instead of lines in Google Docs.
When reading by word using a screen reader, words are now correctly reported when there is punctuation nearby.
The arrow keys now work correctly after tabbing in the picture-in-picture window.
For users on macOS restoring a session with minimized windows, Firefox now uses much less power and you should see much longer battery life.
Developer details for Firefox 83
When using the :screenshot helper command in the Web Console, the --dpr parameter is no longer ignored when taking a fullscreen screenshot using --fullpage.
Developers can use the scroll badge in the Page Inspector toDebug scrollable overflow. Selecting the badge highlights elements that are causing overflow and marks them with the overflow badge.
The crossorigin attribute is now supported for <link rel=icon>.
The displaystyle attribute is now implemented for all MathML elements.
The vendor prefixed :-moz-any() is now aliased to the standard :is() CSS pseudo-class function.
Added support for CSS Conic Gradients.
Intl[@@toStringTag] has been added, returning a default value of Intl (recent addition to the ECMA spec).
Removed preliminary support for WebDriver:SwitchToShadowRoot, which hasn't been added to the WebDriver specification yet.
Fixed a bug in WebDriver:Back and WebDriver:Forward that caused Marionette to hang when the navigation was triggered from within an <iframe> that gets removed.
Security fixes in Firefox 83
CVE-2020-26951: Parsing mismatches could confuse and bypass security sanitizer for chrome privileged code.
CVE-2020-26952: Out of memory handling of JITed, inlined functions could lead to a memory corruption.
CVE-2020-16012: Variable time processing of cross-origin images during drawImage calls.
CVE-2020-26953: Fullscreen could be enabled without displaying the security UI.
CVE-2020-26954: Local spoofing of web manifests for arbitrary pages in Firefox for Android.
CVE-2020-26955: Cookies set during file downloads are shared between normal and Private Browsing Mode in Firefox for Android.
CVE-2020-26956: XSS through paste (manual and clipboard API).
CVE-2020-26957: OneCRL was not working in Firefox for Android.
CVE-2020-26958: Requests intercepted through ServiceWorkers lacked MIME type restrictions.
CVE-2020-26959: Use-after-free in WebRequestService.
CVE-2020-26960: Potential use-after-free in uses of nsTArray.
CVE-2020-15999: Heap buffer overflow in freetype.
CVE-2020-26961: DoH did not filter IPv4 mapped IP Addresses.
CVE-2020-26962: Cross-origin iframes supported login autofill.
CVE-2020-26963: History and Location interfaces could have been used to hang the browser.
CVE-2020-26964: Firefox for Android's Remote Debugging via USB could have been abused by untrusted apps on older versions of Android.
CVE-2020-26965: Software keyboards may have remembered typed passwords.
CVE-2020-26966: Single-word search queries were also broadcast to local network.
CVE-2020-26967: Mutation Observers could break or confuse Firefox Screenshots feature.
CVE-2020-26968,26969: Memory safety bugs fixed in Firefox 83 and Firefox ESR 78.5.
Have fun cross-browser testing in Firefox 83 with Browserling!
Email this blog post to your friends or yourself!
Try Browserling!
Enter a URL to test, choose platform, browser and version, and you'll get a live interactive browser in 5 seconds!