Posted by
August 16, 2018
on
Opera 55 was just released. As we always do, we immediately installed it on our cross-browser testing service and it's now available to every user. This version is based on Chromium 68.0.3440.106 and it includes usability improvements in several areas.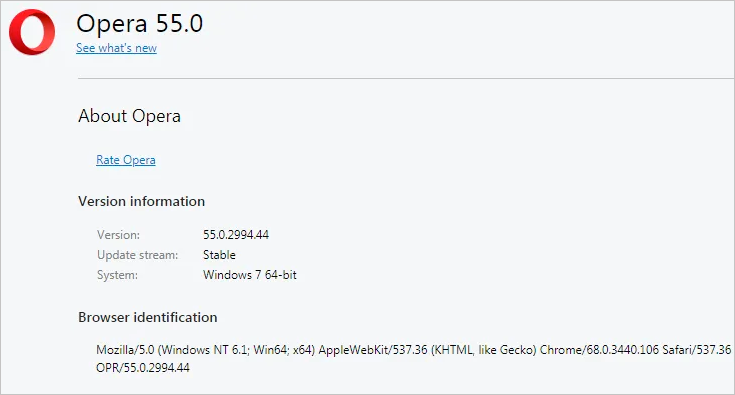 Try Opera 55 in Browserling now!
New Features in Opera 55
Quality of Opera Reborn has been improved: reduced crashes, UI improvements, new background images.
Built-in VPN issues have been fixed.
Opera now supports Animated PNGs (APNGs).
Macbook touchbar users can enjoy an emoji-enabled input field.
Browser's engine has been upgraded to Chrome 59.
New Developer Features in Opera 46
New settings page design
The design and the layout of the settings page is vastly renovated, with a support for dark theme. Now the page is restructured onto four sections to help you locate and modify the variety of browser features. The four sections are: 1. Basic, 2. Privacy and security, 3. Features and 4. Browser.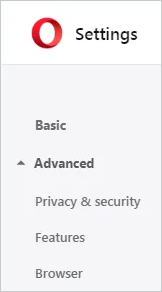 Site information Popup
When you click on the website icon (or sometimes it is a lock icon) in the address bar, Opera now shows an informative pop-up window about the site. This pop-up gives you what you really might want to know about the site such as certificate, number of cookies used (if any) as well as a button to link to the site settings. If the website has a permission to access location automatically, you will see that listed in the popup too and you can change the permissions straight from it.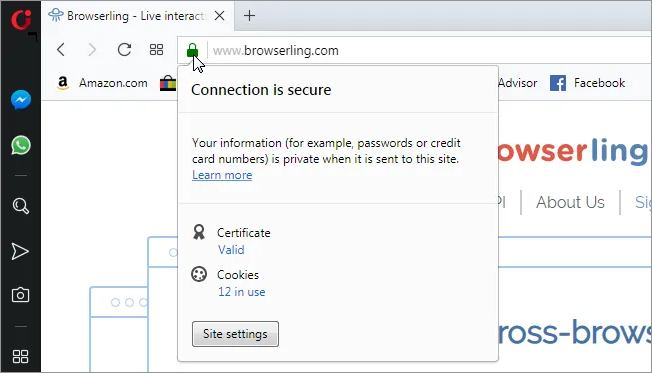 Chrome Extension installs got a tad easier
Some people know, some peoples don't know that due to the fact that Opera uses Chrome as a base, Opera supports Chrome extensions. However, to do that, you had to install a custom extension. Now you can install Chrome extensions from Google's official Chrome Web Store directly.
Visible bookmarks bar by default
This release of Opera chooses to show bookmarks by default. You can of course as well hide the bookmarks bar. Five default bookmarks are shown there too, but they will likely disappear when you start using bookmarks. You can easily remove bookmarks by right-clicking on the bookmark and then "move to trash". Pretty self-explanatory.
Other New Developer Features in Opera 46
Better control of the pages you visit with an expanded badge pop-up menu.
Bug fixes and improvements.
Here are highlights from the changelog of Opera 55:
DNA-69281 SDs images are not refreshed.
DNA-70156 Add test for enabling and disabling instant search.
DNA-70401 Adapt test server for DNA-66354.
DNA-69783 Remove "unpin sidebar" option from "Customize the elements in sidebar".
DNA-68906 Convert usages in desktop/common/turbo.
DNA-70222 Fix Crash at VTVideoDecodeAccelerator object in DecodeDone(Frame*) function.
DNA-69922 [Settings] Autofill options – titles should be aligned with buttons.
DNA-68909 Convert usages in opera_components/fraud_protection.
DNA-69985 Enable "Chromium badge" in all streams.
DNA-70008 [Settings] Change the link icon colour (LT).
DNA-70497 [opauto] Timeout when calling NavigateToURL.
DNA-71083 [Settings] Add categories on Settings page.
DNA-69749 [Windows] Sidebar hint is covering address bar.
DNA-70501 [Linux] Debug fails while linking lib_opautolib.
DNA-66235 Searching bookmarks is slow.
See here for the full changelog in respect to Opera 55.
Happy cross-browser testing in Opera 55!
Email this blog post to your friends or yourself!
Try Browserling!
Enter a URL to test, choose platform, browser and version, and you'll get a live interactive browser in 5 seconds!