Posted by
November 8, 2017
on
The last release of Opera for this year is here. Say hello to Opera 49 with the anticipated support for VR! Opera 49 is based on Chromium 62. To find out which Chromium version Opera is based on, just add 13 to its version number. By the way Browserling already has Opera 49 installed, waiting for you to test your web applications and websites in it.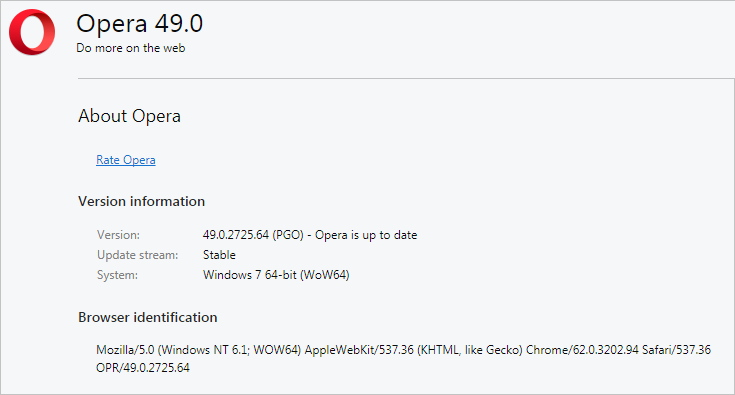 Try Opera 49 in Browserling now!
New Features in Opera 49
New Speed Dial wallpapers
A new wallpapers have been designed to carefully fit your Speed Dial and look good. They can be found in Opera's add-ons page.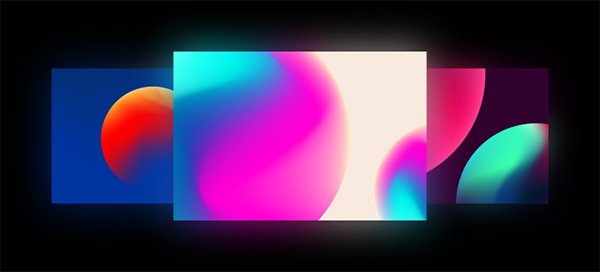 Tool to create, edit and send screenshots
Opera 49 has a new tool that allows you to create a snapshot and it has editing features like a selfie camera for adding raw emotion to your screenshot. You can create a snapshot in two ways: directly from the sidebar via the camera icon or by pressing Ctrl + Shift + 5 (⌘ + ⇧ + 5 in macOS). An adjustable frame will appear where you can adjust exactly what you want to capture before hitting "Capture" to create your screenshot.
Opera is now capable of providing support for 360 degree videos for first time in history of browsers. Such videos can be now played directly into virtual reality headsets like HTC Vive and other OpenVR-compatible devices.
VK Messenger joins built-in sidebar communicators
When you have just created a screenshot you can now send it to a friend of yours in one of the four integrated sidebar messengers. VK Messenger unites Facebook Messenger, WhatsApp and Telegram.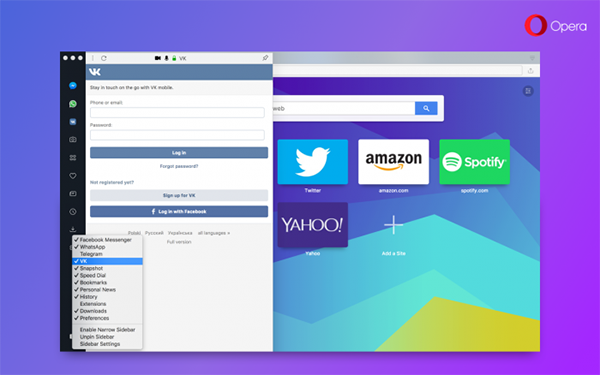 More features in Opera 49
New "Easy setup" sidebar in the place of the older "Customize Start Page".
Five new currencies for currency converter.
Function to rearrange your extensions.
Refined private mode.
O-Menu and history panel improvements.
Visual improvements on the latest HiDPI monitors and Apple MacOS systems.
New Developer Features in Opera 49
Network Quality Estimator API.
OpenType Variable Fonts.
Media Capture from DOM Elements.
Other New Developer Features in Opera 49
DOM interfaces are now supported for <data> and
The CSS color parser now supports 8 and 4-digit hex colors of the format #RRGGBBAA and #RGBA.
ECMAScript regular expressions have been expanded to support lookbehind assertions in addition to lookaheads.
It is now possible to use the s flag to enable dotAll mode in ECMAScript regular expressions, making "." match any character, including line terminators.
Loosened restrictions on escape sequences in ECMAScript template literals makes it possible to use template tags more.
Apps using the MediaSource API can now more effectively customize their HTMLMediaElement.seekable range logic using the new Media Source Extensions APIs, setLiveSeekableRange and clearLiveSeekableRange.
Media Source Extensions now support FLAC, a lossless audio coding format, in mp4 ISO-BMFF.
The visibility:collapse CSS declaration now hides table rows without losing track of the required column width.
Deprecations and interoperability improvements
The ability to request permission to show notifications has been removed over HTTP connections and within cross-origin iframes, in line with the Chromium policy on restricting powerful features to only HTTPS.
The base language is now added immediately after language+region when generating accept-language headers from language settings to make it more likely users receive content in the language they expect.
To make web pages more responsive, transitional mouse events will now be dispatched and hover states updated more quickly after the layout has been modified.
In line with other browsers, the getStreamById method on RTCPeerConnection has now been removed.
SharedWorker.workerStart has been removed.
To better conform to spec, the default value of <ol>.start has been set to 1.
[source] Here are highlights from the changelog of Opera 49:
DNA-64905 [Mac] Buildsign script not working.
DNA-65122 Create API for activating Snap from the welcome page.
DNA-65302 Promote O49 to Stable channel.
Happy cross-browser testing in Opera 49!
Email this blog post to your friends or yourself!
Try Browserling!
Enter a URL to test, choose platform, browser and version, and you'll get a live interactive browser in 5 seconds!