Posted by
January 26, 2016
on
Today Firefox 44 was released and we just installed it to our browser cloud. You can already start cross-browser testing your websites in this new browser version!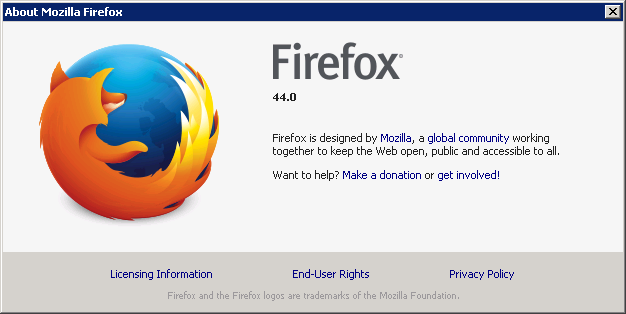 Try Firefox 44 in Browserling now!
What's new in Firefox 44
Enable WebM/VP9 video support on systems that don't support MP4/H.264.
Improved warning pages for certificate errors and untrusted connections.
Support the brotli compression format via HTTPS content-encoding.
Enable H.264 if system decoder is available.
Firefox can now get Push Notifications from your favorite sites.
Screenshot commands allow user choice of pixel ratio in Developer Tools.
In the animation-inspector timeline, lightning bolt icon next to animations running on the compositor thread.
What's changed in Firefox 44
Support for Direct2D 1.0 has been dropped. Windows 7 users can install the Platform Update to re-enable Direct2D support (to fix font rendering issues).
To support unicode-range descriptor for webfonts, font matching under Linux now uses the same font matching code as other platforms.
Firefox will no longer trust the Equifax Secure Certificate Authority 1024-bit root certificate or the UTN - DATACorp SGC to validate secure website certificates.
On-screen keyboard support temporarily turned off for Windows 8 and Windows 8.1.
Use a SHA-256 signing certificate for Windows builds, to meet new signing requirements.
Firefox has removed support for the RC4 cipher.
Stricter validation of web fonts.
What's fixed in Firefox 44
Windows XP and Vista screensaver doesn't disable when watching videos.
Various security fixes.
Security updates and fixes in Firefox 44
Addressbar spoofing through stored data url shortcuts on Firefox for Android.
Firefox allows for control characters to be set in cookie names.
Errors in mp_div and mp_exptmod cryptographic functions in NSS.
Delay following click events in file download dialog too short on OS X.
Addressbar spoofing attacks.
Use-after-free in NSS during SSL connections in low memory.
RC4 is now also disabled by default on Beta and Release versions of the browser and the whitelist is now empty by default.
Unsafe memory manipulation found through code inspection.
Buffer overflow in WebGL after out of memory allocation.
Missing delay following user click events in protocol handler dialog.
Lightweight themes on Firefox for Android do not verify a secure connection.
Application Reputation service disabled in Firefox 43.
Miscellaneous memory safety hazards.
Out of Memory crash when parsing GIF format images.
Developer updates and fixes in Firefox 44
Right click on a logged object in the console to store it as a global variable on the page.
Service Workers API.
Visual tools for Layout and Styles: Display rulers along the viewport to verify size and position and use the measurement tool to easily detect spacing and alignment problems. Use CSS filters to preview and create real-time effects like drop-shadows, sepia, etc.
Built-in JSON reader to intuitively view, search, copy and save data without extensions.
Jump to function definitions in the debugger with Cmd-Click.
Visual tools for Animation: View/Edit CSS animation keyframe rules directly in the inspector. Visually modify the cubic-bezier curve that drives the way animations progress through time. Discover and scrub through all CSS animations and transitions playing on the page.
The rule view now displays styles using their authored text, and edits in the rule view are now linked to the style editor.
WebSocket Debugging API and add-on.
New memory tool for inspecting the memory heap.
HTML, CSS, Javascript updates in Firefox 44
<link rel="prefetch"> now obeys the crossorigin attribute.
position: fixed; now always creates a new stacking context.
Support of unicode-range has been enabled by default.
The value sideways of the text-orientation property has been implemented and sideways-right has been made an alias of it.
The value sideways-rl and sideways-lr of the writing-mode property.
The font-style property now distinguishes between oblique and italic when both variants are available.
Symbol.toPrimitive, Symbol.prototype[@@toPrimitive], and Date.prototype[@@toPrimitive] have been implemented.
The let and const bindings in the global level have been made compliant with ES2015 semantics.
If typed arrays' (like Int8Array) and ArrayBuffer) constructors are called as a function without the new operator.
Support for the non-standard let blocks has been dropped.
The non-standard and deprecated property Object.prototype.__noSuchMethod__ has been removed.
DOM updates in Firefox 44
For compatibility with specific existing sites, the property Document.charset has been implemented as an alias of Document.characterSet.
Support for the window.sidebar.addSearchEngine() method, which allowed Web pages to invoke an installation of a Sherlock plugin, has been dropped and now it just logs a warning in the Web Console.
The obsolete property DocumentType.internalSubset has been removed.
The events mouseover, mouseout, mouseenter, mouseleave, pointermove, pointerover, pointerout, pointerenter and pointerleave are now triggered for disabled form elements.
To match the spec, the method Document.createAttribute() now converts the input to lower case.
Canvas and WebGL updates in Firefox 44
A new experimental OffscreenCanvas API that allows rendering contexts (such as WebGL) to run in Web Workers has been implemented.
Uniform Buffer Objects in WebGL have been implemented.
IndexedDB updates in Firefox 44
The IDBIndex.getAll() and IDBIndex.getAllKeys(), and there counterparts on IDBObjectStore are now available by default.
HTTP protocol updates in Firefox 44
Support for the Brotli algorithm has been added and both Accept-Encoding and Content-Encoding headers now support the br value.
Incorrect support of HTTP/2 headers containing line breaks ('/n') have been removed as the spec doesn't allow it, unlike HTTP/1.
Service workers updates in Firefox 44
The ServiceWorkerMessageEvent and ExtendableMessageEvent interfaces have been implemented.
The XMLHttpRequest API has been disabled on Service Workers.
To match the latest specification, the ServiceWorkerContainer.onreloadpage has been removed.
The Client.frameType property is now implemented on the right interface; it was on WindowClient before.
Service workers have been enabled by default in Gecko.
WebRTC updates in Firefox 44
WebRTC interfaces have been unprefixed. In particular: mozRTCPeerConnection is now RTCPeerConnection. mozRTCIceCandidate is now RTCIceCandidate. mozRTCSessionDescription is now RTCSessionDescription.
The RTCDataChannel.bufferedAmountLowThreshold and RTCDataChannel.onbufferedamountlow properties, as well as the bufferedamountlow event, have been implemented.
The constructor MediaStream() has been implemented.
Unresolved issues in Firefox 44
Trusteer Rapport is severely impacting the stability of Firefox.
Happy cross-browser testing in Firefox 44!
Email this blog post to your friends or yourself!
Try Browserling!
Enter a URL to test, choose platform, browser and version, and you'll get a live interactive browser in 5 seconds!