Posted by
November 5, 2015
on
Exciting news! We now also have a Firefox extension for Browserling!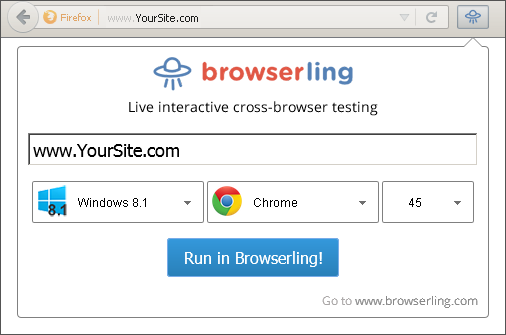 Browserling's Firefox extension lets you quickly access Browserling with just one click. Click the extension and you can start cross-browser testing your websites immediately without going to our website first.
Follow this URL to install it:
https://addons.mozilla.org/en-US/firefox/addon/cross-browser-testing/
Extensions for Safari and Internet Explorer are coming soon, we're working on it. We've already released Browserling's Chrome Extension and Browserling's Opera Addon.
Rate it 5 starts if you love it and happy cross-browser testing!
Email this blog post to your friends or yourself!
Try Browserling!
Enter a URL to test, choose platform, browser and version, and you'll get a live interactive browser in 5 seconds!